I recently returned from a backpacking trip to Panthertown Valley in the Nantahala National Forest. I almost cancelled this trip because Hurricane Hanna was forecast to pass right over the area while I was there. I realized several years ago there is always a reason to cancel a trip. If I am going to make photographs, I just have to go anyway. So I went, and the hurricane ended up arriving later and passing more to the east than forecast. I actually had beautiful weather the whole time.
On the last day as I was driving home, I stopped on the Blue Ridge Parkway to watch the sunset. I was amazed to see that I was right on the edge of the hurricane. Huge curving clouds from the spiral arms of the hurricane filled the eastern sky and caught the light from the setting sun. Being on top of a mountain is an exhilarating experience but to be on the edge of all that power was sublime.
I have always admired time-lapse photography but never gave it a try. This seemed like a good time to start. When photographing a sunset, I always make photographs over a period of time as the light changes. There is no way to know if the photograph you just made is going to be the best one or if the light will improve in a few minutes. This time I decided to make a photograph at exactly 30 second intervals so I could combine them together into a time-lapse movie. The movie compresses 20 minutes into 6 seconds. I think it came out okay for my first try.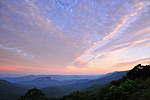 Hurricane Hanna Time-Lapse