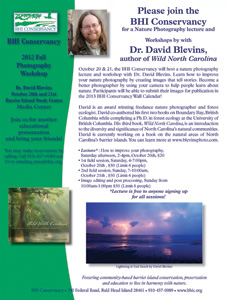 Join me on October 20 and 21 on Bald Head Island for a nature photography lecture and workshop hosted by the BHI Conservancy. Learn how to improve your nature photography by creating images that tell stories. The theme will be becoming a better photographer by using your camera to help people. Participants will be able to submit their images for publication in the 2013 BHI Conservancy Wall Calendar! We will meet at the new Barrier Island Study Center media room on the BHI Conservancy campus.
Lecture* on how to improve your photography, Saturday afternoon, 2-4pm, October 20th, $20
1st field session, Saturday from 4:00pm-7:00pm, October 20th , $50 (Limit 6 people)
2nd field session, Sunday from 7:00am-10:00am, October 21th , $50 (Limit 6 people)
Image editing and post processing, Sunday from 10:00am-1:00pm $50 (Limit 6 people)
* Lecture is free to anyone signing up for all sessions!
You may make reservations by calling 910-457-0089 ext 10 or by sending an email to  jane@bhic.org.
All proceeds support the BHI Conservancy's mission of fostering community-based barrier island conservation, preservation & education to live in harmony with nature.